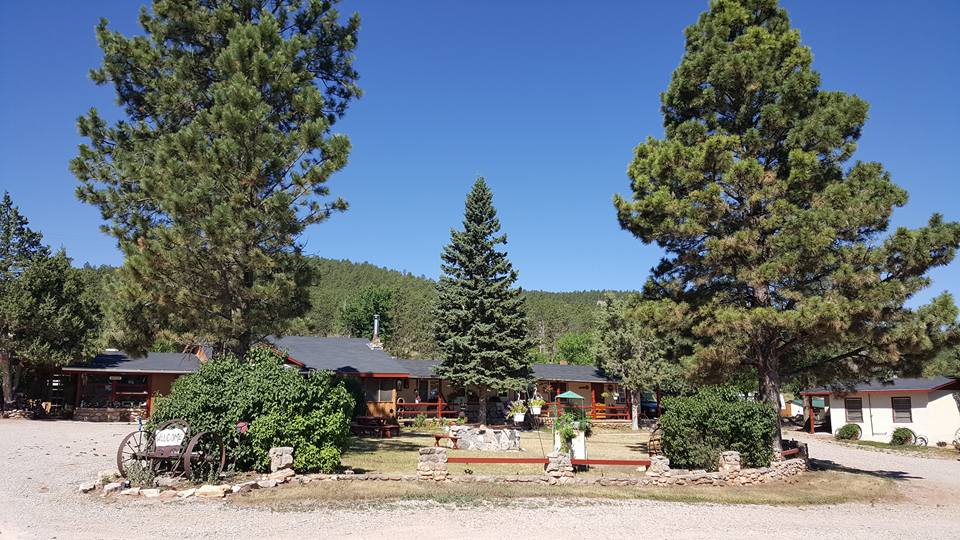 The Covered Wagon Resort has the unique distinction of being the first private Campground established in South Dakota and one of the first in the nation. John Honerkamp, an influential builder in the Piedmont area, bought the original 3 acres in 1945 and entered into the tourist business the next year. Over time, electricity and plumbing were added, more land was bought, and more buildings were added. In the mid-1950s it was truly a resort, comprising over 40 acres. The evening entertainment often included amazing performances from many talented Native Americans and a local once world champion rodeo cowboy.
The Covered Wagon Resort has played host to thousands of tourists over the years, even up to 700 in one day. During this time period, famous wildlife artist, Les Schebo, came to hunt turkeys with a few of his friends, all from Minnesota. While staying in one of the cabins here, he executed one of his most influential paintings: Wild Turkeys of the Black Hills. A copy of this painting still hangs in the lodge today.
The name, Covered Wagon Resort was chosen because of the historical background of the property. In 1874, General Custer's expedition, which included 110 wagons and 1000 men, passed over the Piedmont property. The ruts left by those wagons lasted into at least the 1970s. Today, you will see a genuine covered wagon at the entrance and many wagon wheels at various places on the property.
In 2008, the Covered Wagon Resort was entered into the National Register of Historic Places. Then in 2018, the property was split. The original, smaller property was once again Covered Wagon Resort, with its quaint architecture and beautifully treed landscape. In 2018 our family purchased it and since has made many improvements, all while maintaining the original flavor of the era in which it was built.
Come visit us, stay awhile, and enjoy a bit of the flavor of the days gone by. We can't wait to meet you!
See our stay options!
We have cabins, RV and tent spaces, an event space, and even long term stay options!